Market-value in the news
from Edward Fullbrook
Over the weekend I read two articles (1, 2) in The Guardian about market-value.  One concerned the painter Bansky, the other a truffle hunter in Croatia.
I've been fan of Bansky for twenty years, beginning when he was a local graffiti artist in my part of town.  A couple of years ago one of his paintings, Girl With Balloon, was auctioned at Sotheby's in London for £1.1m. 
As soon as the auctioneer's hammer fell, Bansky's canvass "passed through a secret shredder hidden in its large Victorian-style frame, leaving the bottom half in tatters and only a solitary red balloon left on a white background in the frame."  Here is the one-minute video.
That shredded painting has been retitled "Love is in the Bin" and will be auctioned again at Sotheby's in October when it is expected to sell for between £4-6m.
Assuming it does sell for four million and a bit, that is three million pounds that six seconds of shredding added to market-value wealth and to this year's GDP.  More than most of us add in a lifetime.
The other market-value article was a first-person account by a Croatian truffle hunter, Giancarlo Zigante.  In his late twenties he took up truffle hunting, a mostly night-time occupation, to supplement his income as a tool-maker for the medical industry.  He fell in love with truffle hunting and soon was earning enough money to give up tool-making.
Giancarlo had been happily living the truffle hunter's life for twenty years, when one night in 1999 after leaving his house with his German pointer at 2:OO AM, he and his dog dug up by far the biggest truffle Giancarlo had ever seen
"I weighed the truffle straight away and knew I had something special on my hands. It weighed 1,310g. In the morning I spoke with Guinness World Records, who confirmed that it was the biggest truffle ever recorded. I could have sold it for €1m and made my fortune, but I knew instantly that I didn't want to do that. It's great to be rich, but I felt the truffle could have more impact if it was shared. The truffle was found in Istria and should be consumed here, not sold to a rich person abroad.
I invited 200 people from Istria to a feast, on me, and we ate it between us. The night was very special; an amazing atmosphere. Even the president of Croatia was there. Every white truffle tastes amazing – but this one was different."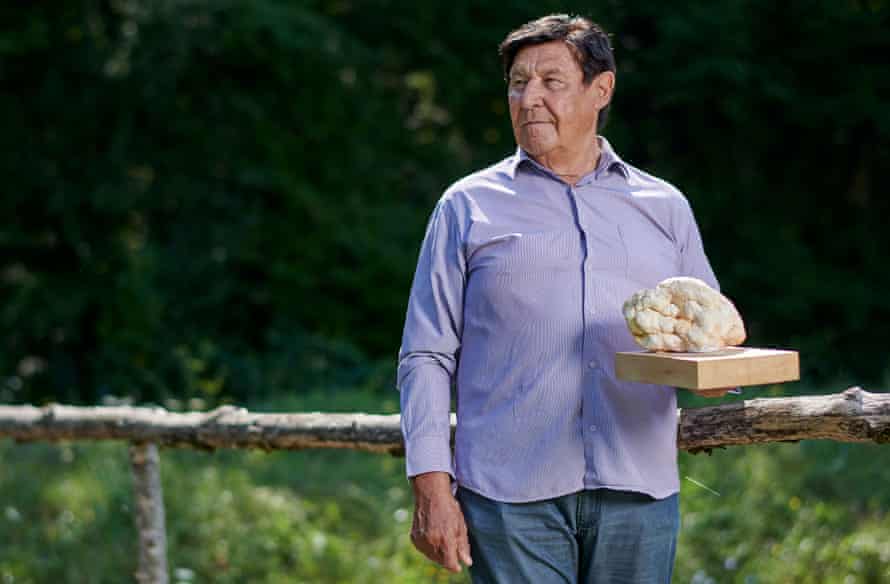 Giancarlo today holding a sculpture of his truffle
So it was that that one million euros of market-value never came into existence.  By eating instead of selling that ruffle. Giancarlo and his friends lowered Croatia's per capita GDP.