US tax rates for the rich then and now
from John Schmitt
The fictional television series "Mad Men" does a great job dramatizing the astonishing cultural, social, and political transformation of the United States since the early 1960s. A new report (pdf) from the Institute for Policy Studies now adds some insight into one of the key economic differences between then and now.
This graph from the report compares the actual income taxes paid by the rich in 1961 and 2011. As it happens, 1961 falls right between the time covered by seasons one (March to November, 1960) and two (February to October 1962) of "Mad Men."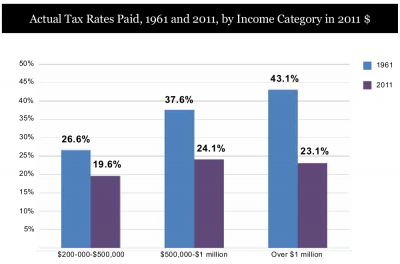 Source: Institute for Policy Studies.
Back in 1961, Don Draper and his partners at Sterling Cooper paid somewhere between 27 and 43 percent of their income in federal income taxes. Their counterparts today pay somewhere between 20 and 24 percent. As the IPS report argues, we don't need austerity, we need tax increases at the top.
Guidelines for Comments
• This blog is renowned for its high level of comment discussion. These guidelines exist to further that reputation.
• Engage with the arguments of the post and of your fellow discussants.
• Try not to flood discussion threads with only your comments.
• Do not post slight variations of the same comment under multiple posts.
• Show your fellow discussants the same courtesy you would if you were sitting around a table with them.
Comments on issue 66
This blog is ranked 95th among
Real World Economics Review
Real World Economics Review
The RWER is a free open-access journal, but with access to the current issue restricted to its 23,924 subscribers (12/01/14). Subscriptions are free. Over one million full-text copies of RWER papers are downloaded per year.
WEA – May 2011 – 12,000+ members
follow this blog on Twitter
Revere Award in Economics
Dynamite Prize for Economics
RWER Contributors
Editor: Edward Fullbrook. Associate Editor: Jamie Morgan. PAST CONTRIBUTORS: James Galbraith, Frank Ackerman, André Orléan, Hugh Stretton, Jacques Sapir, Edward Fullbrook, Gilles Raveaud, Deirdre McCloskey, Tony Lawson, Geoff Harcourt, Joseph Halevi, Sheila C. Dow, Kurt Jacobsen, The Cambridge 27, Paul Ormerod, Steve Keen, Grazia Ietto-Gillies, Emmanuelle Benicourt, Le Movement Autisme-Economie, Geoffrey Hodgson, Ben Fine, Michael A. Bernstein, Julie A. Nelson, Jeff Gates, Anne Mayhew, Bruce Edmonds, Jason Potts, John Nightingale, Alan Shipman, Peter E. Earl, Marc Lavoie, Jean Gadrey, Peter Söderbaum, Bernard Guerrien, Susan Feiner, Warren J. Samuels, Katalin Martinás, George M. Frankfurter, Elton G. McGoun, Yanis Varoufakis, Alex Millmow, Bruce J. Caldwell, Poul Thøis Madsen, Helge Peukert, Dietmar Lindenberger, Reiner Kümmel, Jane King, Peter Dorman, K.M.P. Williams, Frank Rotering, Ha-Joon Chang, Claude Mouchot, Robert E. Lane, James G. Devine, Richard Wolff, Jamie Morgan, Robert Heilbroner, William Milberg, Stephen T. Ziliak, Steve Fleetwood, Tony Aspromourgos, Yves Gingras, Ingrid Robeyns, Robert Scott Gassler, Grischa Periono, Esther-Mirjam Sent, Ana Maria Bianchi, Steve Cohn, Peter Wynarczyk, Daniel Gay, Asatar Bair, Nathaniel Chamberland, James Bondio, Jared Ferrie, Goutam U. Jois, Charles K. Wilber, Robert Costanza, Saski Sivramkrishna, Jorge Buzaglo, Jim Stanford, Matthew McCartney, Herman E. Daly, Kyle Siler, Kepa M. Ormazabal, Antonio Garrido, Robert Locke, J. E. King, Paul Davidson, Juan Pablo Pardo-Guerra, Kevin Quinn, Trond Andresen, Shaun Hargreaves Heap, Lewis L. Smith, Gautam Mukerjee, Ian Fletcher, Rajni Bakshi, M. Ben-Yami, Deborah Campbell, Irene van Staveren, Neva Goodwin, Thomas Weisskopf, Mehrdad Vahabi, Erik S. Reinert, Jeroen Van Bouwel, Bruce R. McFarling, Pia Malaney, Andrew Spielman, Jeffery Sachs, Julian Edney, Frederic S. Lee, Paul Downward, Andrew Mearman, Dean Baker, Tom Green, David Ellerman, Wolfgang Drechsler, Clay Shirky, Bjørn-Ivar Davidsen, Robert F. Garnett, Jr., François Eymard-Duvernay, Olivier Favereau, Robert Salais, Laurent Thévenot, Mohamed Aslam Haneef, Kurt Rothschild, Jomo K. S., Gustavo Marqués, David F. Ruccio, John Barry, William Kaye-Blake; Michael Ash, Donald Gillies, Kevin P.Gallagher, Lyuba Zarsky, Michel Bauwens, Bruce Cumings, Concetta Balestra, Frank Fagan, Christian Arnsperger, Stanley Alcorn, Ben Solarz, Sanford Jacoby, Kari Polanyi, P. Sainath, Margaret Legum, Juan Carlos Moreno-Brid, Igor Pauno, Ron Morrison, John Schmitt, Ben Zipperer, John B. Davis, Alan Freeman, Andrew Kliman, Philip Ball, Alan Goodacre, Robert McMaster, David A. Bainbridge, Richard Parker, Tim Costello, Brendan Smith, Jeremy Brecher, Peter T. Manicas, Arjo Klamer, Donald MacKenzie, Max Wright, Joseph E. Stiglitz. George Irvin, Frédéric Lordon, James Angresano, Robert Pollin, Heidi Garrett-Peltier, Dani Rodrik, Marcellus Andrews, Riccardo Baldissone, Ted Trainer, Kenneth J. Arrow, Brian Snowdon, Helen Johns, Fanny Coulomb, J. Paul Dunne, Jayati Ghosh, L. A Duhs, Paul Shaffer, Donald W Braben, Roland Fox, Marco Gillies, Joshua C. Hall, Robert A. Lawson, Will Luther, JP Bouchaud, Claude Hillinger, George Soros, David George, Alan Wolfe, Thomas I. Palley, Sean Mallin, Clive Dilnot, Dan Turton, Korkut Ertürk, Gökcer Özgür, Geoff Tily, Jonathan M. Harris, Thomas I. Palley, Jan Kregel, Peter Gowan, David Colander, Hans Foellmer, Armin Haas, Alan Kirman, Katarina Juselius, Brigitte Sloth, Thomas Lux, Luigi Sapaventa, Gunnar Tómasson, Anatole Kaletsky, Robert R Locke, Bill Lucarelli, L. Randall Wray, Mark Weisbrot, Walden Bello, Marvin Brown, Deniz Kellecioglu, Esteban Pérez Caldentey, Matías Vernengo, Thodoris Koutsobinas, David A. Westbrook, Peter Radford, Paul A. David, Richard Smith, Russell Standish, Yeva Nersisyan, Elizabeth Stanton, Jonathan Kirshner, Thomas Wells, Bruce Elmslie, Steve Marglin, Adam Kessler, John Duffield, Mary Mellor, Merijn Knibbe, Michael Hudson, Lars Pålsson Syll, Korkut Erturk, Jane D'Arista, Richard Smith, Ali Kadri, Egmont Kakarot-Handtke, Ozgur Gun, George DeMartino, Robert H. Wade, Silla Sigurgeirsdottir, Victor A. Beker, Pavlina R. Tcherneva, Ali Kadri, Egmont Kakarot-Handtke, Ozgur Gun, George DeMartino, Robert H. Wade, Silla Sigurgeirsdottir, Victor A. Beker, Pavlina R. Tcherneva
RWER Board of Editors
Nicola Acocella (Italy, University of Rome) Robert Costanza (USA, Portland State University) Wolfgang Drechsler ( Estonia, Tallinn University of Technology) Kevin Gallagher (USA, Boston University) Jo Marie Griesgraber (USA, New Rules for Global Finance Coalition) Bernard Guerrien (France, Université Paris 1 Panthéon-Sorbonne) Michael Hudson (USA, University of Missouri at Kansas City) Frederic S. Lee (USA, University of Missouri at Kansas City) Anne Mayhew (USA, University of Tennessee) Gustavo Marqués (Argentina, Universidad de Buenos Aires) Julie A. Nelson (USA, University of Massachusetts, Boston) Paul Ormerod (UK, Volterra Consulting) Richard Parker (USA, Harvard University) Ann Pettifor (UK, Policy Research in Macroeconomics) Alicia Puyana (Mexico, Latin American School of Social Sciences) Jacques Sapir (France, École des hautes études en sciences socials) Peter Söderbaum (Sweden, School of Sustainable Development of Society and Technology) Peter Radford (USA, The Radford Free Press) David Ruccio (USA, Notre Dame University) Immanuel Wallerstein (USA, Yale University)
Contact
pae_news@btinternet.com
follow this blog on Twitter